More than 100 march, protest Whiteclay liquor sales
By RUTH MOON / RAPID CITY JOURNAL / August 26, 2012
WHITECLAY, Neb. | The Nebraska border town of Whiteclay filled Sunday afternoon as protesters from as far as the West Coast spoke and demonstrated in an attempt to end alcohol sales in the town.
More than 100 men, women and children marched two miles south from Pine Ridge's Oglala Sioux tribal headquarters, to Whiteclay, which borders the Pine Ridge reservation. The town has been in national news since February, when the Oglala Sioux Tribe filed a lawsuit against the owners of four liquor stores there.
Whiteclay liquor stores sold more than 4 million cans of beer last year, according to the Nebraska Liquor Control Commission.
This "Women's Day of Peace" is a way for tribal women to take control and protest alcoholism in Whiteclay and on the reservation, said Olowan Martinez, who organized the event.
"It's our homes that are affected with every single drunk relative that comes in," Martinez said. "It's our sons going to prison. It's our daughters being molested by drunk relatives."
Shopkeepers and locals watched from street corners and barred store windows as 150 protestors circled in the main street through Whiteclay, sharing stories of alcoholic family and friends.
"They don't even take a flower or sympathy card to my relatives who are dying of alcoholism," said Oglala resident Arlette Loud Hawk of Whiteclay liquor store owners.
"I wish we could get rid of Whiteclay," said Pine Ridge resident Eileen Janis.
"These are our relatives dying here," said Lakota activist Debra White Plume. "We're not going to just let business continue as usual."
Five protestors from Deep Green Resistance, an environmental group based in California, joined hands and stretched across Nebraska Highway 87 on the north end of Whiteclay. The group was prepared to stay seated through the night at Martinez' request, said Jessica Garraway, organizer for Deep Green Resistance.
Garraway said the organization, though primarily environmental, is committed to protesting Whiteclay with the Lakota people. About 15 protestors from the group had come from the Midwest and Pacific Northwest.
"We realize exploitation of the land is inter-related with exploitation of people," she said.
Martinez said she wanted the Deep Green Resistance group to stay seated until they were arrested, to gain publicity.
Protestors still stretched across the road Sunday mid-afternoon. Garraway said she would have no problem with law enforcement arrests.
"If that happens, it's great," she said. "It's shining attention on the evil that's in this place."
Sheridan County Sheriff Terry Robbins and several vehicles from his office and the Nebraska State Patrol camped out in Whiteclay to keep crowds under control during the protest, he said.
"If they want to protest, that's fine with me," he said. "We're just trying to keep them from getting out of hand."
The first hours of the protest were peaceful aside from an incident where a Nebraska law enforcement official sprayed mace in the faces of several children and teens who tried to block a law enforcement vehicle. The children and teens had also tried to take an arrested person out of the vehicle, said Tyson Blacksmith, a bystander and 22-year-old protestor from Oglala.
This was the summer's second march from Pine Ridge to Whiteclay. In early June, protestors marched in the 13th year of a demonstration that has occurred annually since two Lakota men were found dead near Whiteclay in 1999.
Photographs: Aaron Rosenblatt, Rapid City Journal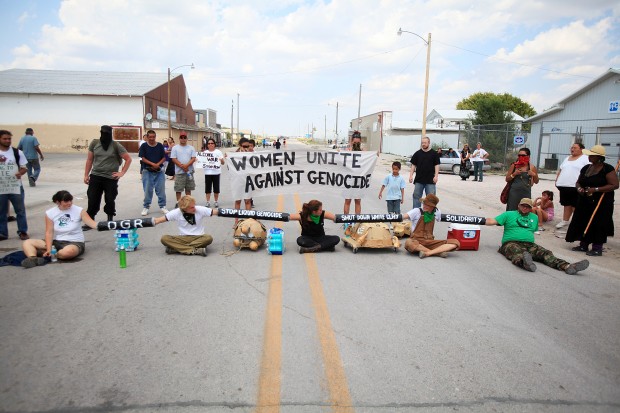 Activists form a blockade along U.S. Highway 87 in Whiteclay, Neb., during the Women's Day of Peace march on Sunday.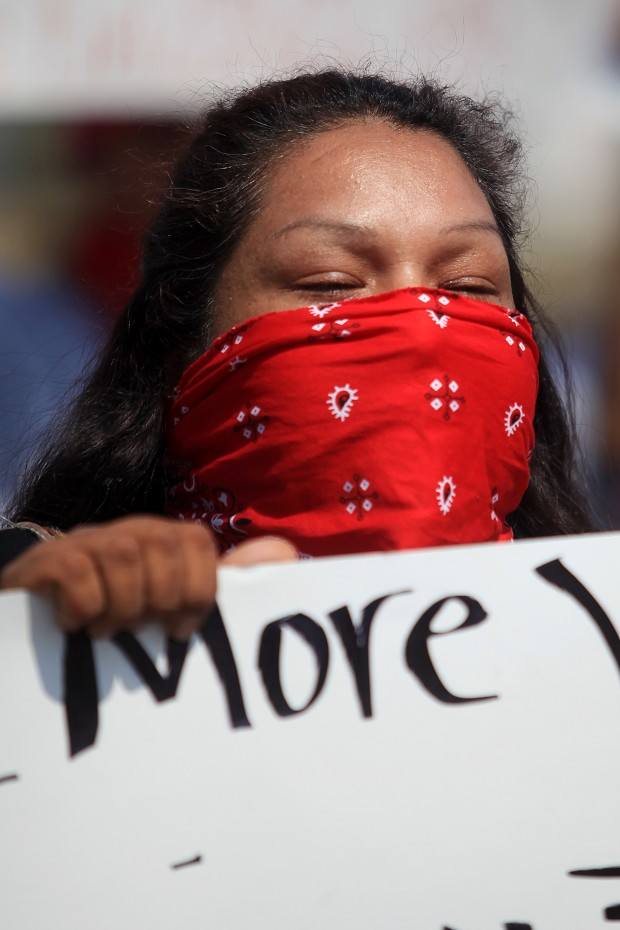 Olowan Martinez of Porcupine marches down S.D. Highway 407 from Pine Ridge to Whiteclay, Neb., during the Women's Day of Peace march on Sunday.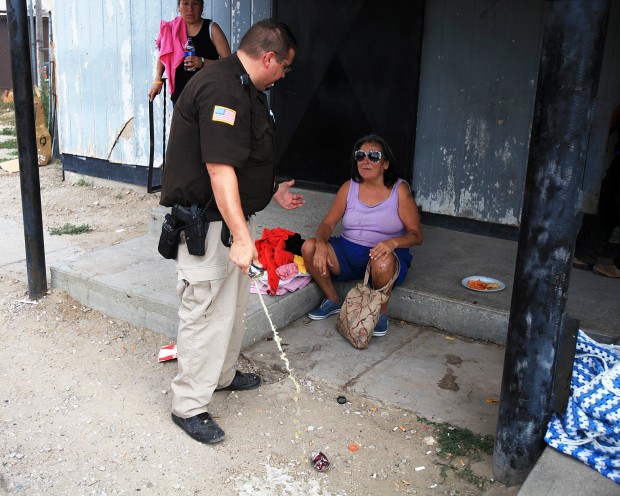 Deputy Chris Henry of the Sheridan County (Neb.) Sheriff's Office empties a can of beer that belonged to a Pine Ridge resident during the Women's Day of Peace march in Whiteclay, Neb., on Sunday.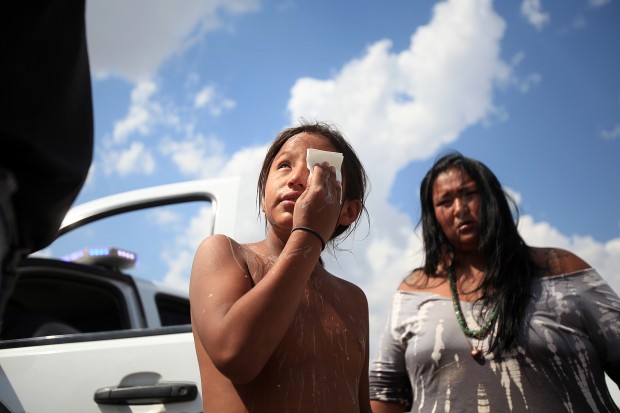 Wakinyan Conroy, 10, of Pine Ridge wipes tear gas from his eyes as his mother, Autumn Two Bulls, looks on along S.D. Highway 407 near Whiteclay, Neb., on Sunday. Conroy was maced by Nebraska law enforcement officials after arresting a protester.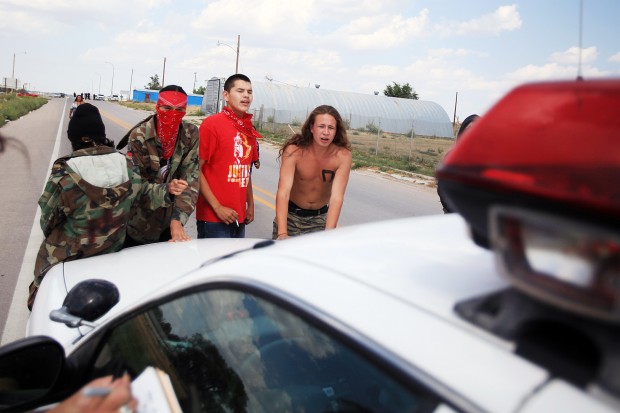 Activists Allan Lone Hill, second from left, and George Dull Knife of Kyle, second from right, try to prevent a Sheridan County (Neb.) Sheriff's Office vehicle from moving forward after another activist was arrested during the Women's Day of Peace march in Whiteclay, Neb., on Sunday.
Tags: alcoholism, arrests, blockade, civil disobedience, Deep Green Resistance, Pine Ridge, rally, Sheridan County, State Patrol